SpotDev is now a Platinum Certified HubSpot Partner Agency
SpotDev is now a Platinum Certified HubSpot Partner Agency
Get weekly
HubSpot Updates
*This post is out of date because we are now Diamond Partners. Read this post to find out more about our status as a top-tiered HubSpot partner.*
This October, SpotDev is delighted to announce that we're now recognised as a Platinum Certified HubSpot Partner Agency.
In 2017, we hit both the Silver and Gold tier but, as Platinum Partners, we join the ranks of fewer than thirty UK agencies in the top two tiers of the Partner Programme. So, other than getting a new shiny badge for our website, what does this actually mean?
Better, faster, happier
Knowing that Platinum status was around the corner, we've already turned our attention to reaching the highest tier in the Partner Programme, Diamond status. To do that, we've increased our focus on the customer experience with a three word mantra: better, faster, happier.
We want our customers to achieve better outcomes with work that is of an even higher quality than before. That's why we've been expanding our team and continuing to invest in training, so that we deliver proven, predictable business results.
Those better outcomes are going to be delivered with faster turnaround times. We've been working to refine our processes and eliminate communication bottlenecks. Just contact us or live chat for customer support.
With better outcomes and faster turnaround times, we're expecting our customers to be happier with reduced time-to-results and greater clarity about how tasks are progressing. Our intention is to help you reach or exceed your goals in less time than before – exactly what every business owner wants. After all, our agency's mission is Everybody Smile More.
Helping all companies to see success with inbound
Whether Silver, Gold, Platinum or Diamond, no agency can work with every company. Some businesses can't afford to work with an agency and others are keen to insource their inbound marketing, sales and service. We both understand this and respect it.
That's why we're expanding the range of free content that we're offering on our website. I'm pleased to announce that Anna Kaine, our Senior Content Strategist, is taking responsibility for providing useful and remarkable content for any business looking to master inbound. In the coming months, expect to see more 'how to' guides, more examples of 'what a good one looks like', and plenty of repeatable processes that you can use in your business. Just have a look at our Guide to Pillar Pages to get a sense of the educational content that's on the way.
With this expanded range of free resources, we're hoping that more companies will benefit from the processes that we've developed. Whether you're working with an agency or not, you'll be able to grow better with inbound, the ESM way.
What does HubSpot have to say about SpotDev?
With our new-found status as Platinum Partners, we're delighted that HubSpot, the company that coined the term 'inbound', is recognising us for delivering excellent inbound services to our customers.
Brian Sexton, one of HubSpot's Principal Channel Managers, has been working with us since early 2017 and has been instrumental in the launch of our standalone onboarding services for the Marketing, Sales and Service Hubs. When asked about our Platinum status, he said:
"In under two years, SpotDev has proven its dedication to transforming into a full-service inbound marketing agency, and today, they celebrate becoming one of the few HubSpot Platinum partners in the UK.

Their ability to diagnose, research and formulate a results-focused strategy has been fundamental to their clients' success and growth with inbound marketing, and it's fair to say that I speak on behalf of the entire Partner team at HubSpot when I say that we love working with such a team of hard-working and inbound-minded individuals. We look forward to seeing what SpotDev can achieve in this next level of partnership. Very well deserved."
Since joining the Partner Programme, we've also been lucky enough to work with HubSpot's Rachel Ahearne, a Principal Channel Consultant. Rachel has helped us form our processes and refine our positioning. Regarding our Platinum status, Rachel said:
"SpotDev and I started working together in 2016 and it was clear from the first call that they had the processes and capabilities equal to a high-tier agency already!

Reaching Platinum comes as no surprise to their HubSpot team or the customers whose businesses they have transformed over the past few years. They bring so much industry knowledge to each project and are always the first to test new features and strategies. I am delighted to see all this hard work realised. A joy to work and collaborate with. Congratulations!"
Customer love
We want to say a huge 'thank you' to our customers. We are only able to grow because you continually choose to work with us. We're looking forward to doing even more to help you meet and exceed your goals.
My co-founder, Lucy Seymour, is always quick to highlight the importance of our customers, and today is no exception:
"A huge thank you to our customers, our team and to everyone at HubSpot. We are thrilled! Our journey to Platinum has made us a better agency, enabling us to better serve our customers. This has been an exciting time, and I can't wait for the next instalment as we start working towards becoming a Diamond agency partner."
That journey to Diamond status will be a long one. The performance metrics for the top tier of the Partner Programme are dizzying (which is why only five UK agencies have made the grade). But we have a plan to get there and it centres around making our customers smile by delivering a better, faster service that centres on their goals.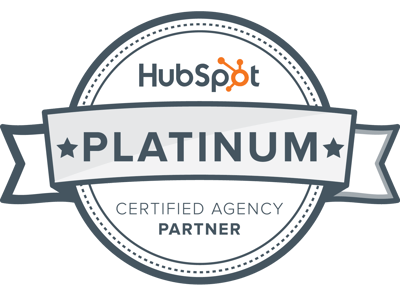 So, as HubSpot Platinum Partners, we look forward to helping businesses grow. If you're looking to experience a better way to do inbound, contact us to get started. We can't wait to see what we achieve together on the path to Diamond.
Our content includes affiliate links. This means that we may receive a commission if you make a purchase through one of the links on our website. This will be at no cost to you and helps to fund the content creation work on our website.