SpotDev becomes a Silver HubSpot Certified Agency Partner
SpotDev becomes a Silver HubSpot Certified Agency Partner
Get weekly
HubSpot Updates
*This post is out of date because we are now Diamond Partners. Read this post to find out more about our status as a top-tiered HubSpot partner.*
SpotDev is delighted to announce that we have been recognised as a Silver HubSpot Certified Agency Partner. This means that we have been acknowledged as delivering "inbound marketing services to the highest standards".
We first started working with HubSpot in November 2016, when they approached us to join their Agency Partner programme. They were attracted to ESM's focus as a marketing agency for educational suppliers. Having a clear focus about who we will work with enables us to offer excellent guidance and support for our clients and HubSpot recognised this.
How did we become a Silver HubSpot Certified Partner Agency?
There were three stages that formed ESM's journey to becoming a Silver Tiered HubSpot Certified Partner Agency:
development of our internal systems and processes
studying, taking and passing HubSpot certifications
delivering successful inbound marketing services to our clients
The SpotDev team has pulled together to ensure that client success is not just our goal - it's what we deliver. We are delighted that HubSpot has acknowledged this by awarding us Silver status.
Developing our internal systems and processes
The improvement of our systems and processes has been integral to ESM's growth as an agency. We have looked at best practice from marketing agencies throughout the world, adopted ideas that were suitable for our clients and refined those that needed a tweak for the education sector.
The ESM approach to inbound marketing is now even more transparent and, more importantly, a vehicle for repeatable, reliable success when marketing to schools and teachers.
A few of the systems that we have refined include:
an onboarding process that ensures a rapid but effective implementation of inbound marketing practices
a points-based system for identifying the specific marketing tasks that will be taken on each month
a campaign planning process that ensures all marketing assets are focused on lead generation
a refined reporting process that identifies the successes that can be repeated, opportunities for improvement and the metrics that should be the focus of the following month's marketing activities
We have always been focused on client success but ESM is now able to be much more transparent in that process. Importantly, we are also better equipped to repeat those successes and drive continuous improvement.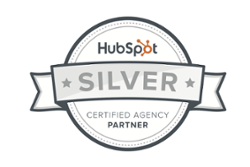 HubSpot certifications
ESM Digital Marketing has a deep commitment to lifelong learning. As former teachers, we can't help but see the value that learning can add to all our lives.
That's why we were particularly attracted to partnering with HubSpot - they share our belief in the value of learning. They offer a free introductory marketing certification to anyone and everyone that wants to take it. HubSpot customers are able to take additional courses that help users to make the most of the software. Finally, agency partners are able to undertake further study that focuses on delivering success to clients.
At ESM, we jumped at the opportunity to learn. To become a HubSpot Certified Agency Partner, we were obliged to take three of these courses:
Inbound Marketing
HubSpot Marketing Software
Agency Partner Certification
The first of these programmes, Inbound Marketing, ensured that we had a secure understanding of the practices of the inbound approach to marketing.
The HubSpot Marketing Software certification took this theoretical understanding and enabled us to prove that we can use HubSpot's software to deliver marketing success. Not only did we have to undertake hours of study and pass an exam, we had to prove this by undertaking a practicum.
What's a practicum? It felt very much like coursework to us! We had to implement inbound marketing practices, reach benchmarks for the performance of each element and then submit evidence of this to HubSpot. It's the first time that we've ever undertaken a course of study that ties together the success of our learning and the success of our business!
Finally, we had to pass the Agency Partner Certification. This consolidated the learning from the previous two certifications and ensured that we had systems in place that would deliver great results for our clients at every stage of their ESM journey. This required a much deeper understanding of what it takes to deliver marketing campaigns that meet each clients' needs.
That's what we were required to study. But we're ESM... we couldn't help but do more. We have gone on to take and pass additional courses in:
Inbound Sales
HubSpot Sales Software
Content Marketing
Email Marketing
Delivering Client Success
Delivering Sales Success
Developing a Sales Plan
And we're not stopping there either. We are currently studying the HubSpot Design and Growth-Driven Design programmes. Watch this space!
Delivering successful inbound marketing services to our clients
The systems, processes and learning were very important to us. What matters even more is that we are helping our clients to succeed.
We took everything that we learnt in the certifications, all our new systems and a whole bunch of education-specialist knowledge and applied it to the work we've been doing for our clients.
The success that went hand-in-hand with these new campaigns is what has led to us being awarded Silver Tier status. We have proved that we can deliver excellent inbound marketing campaigns and that our clients are seeing real results. That's why we are so proud to be a tiered HubSpot partner.
Thank you to all of our clients for joining us on this journey but, rest assured, it's far from over. We will be working with you to drive even greater results in the coming months and years.
What's next for SpotDev?
ESM will be working with our clients to deliver ever-more successful campaigns that ensure their amazing products and services reach the schools, teachers and pupils that need them most.
In the coming months, ESM will:
launch our Sales Enablement services
introduce Growth-Driven Design as an option for your website development
expand our range of workshops to help you design and implement ever more successful marketing campaigns
Keep an eye on our blog and social media channels to find out when these services will be launching. If you can't wait to experience these new services, then you can express an interest in our Early Access programme by visiting this page.
Thank you to our clients and HubSpot for all your support in our journey to Silver status. Here's to the next level!
Our content includes affiliate links. This means that we may receive a commission if you make a purchase through one of the links on our website. This will be at no cost to you and helps to fund the content creation work on our website.