Abbott Laboratories launches series of websites for their Ensure brand
Combining HubSpot's themes and child themes functionality for a multinational rollout.
Abbott Laboratories is a multinational healthcare company with a suite of class-leading brands and products. ESM Inbound has worked with Abbott Laboratories since October 2018 and we have become a trusted partner for a range of CRM, website development, UI/UX and integration projects.
When it was time to launch new websites for their Ensure brand, the Abbott Laboratories team turned to ESM Inbound for advice. They already had developer-ready design files in Adobe XD format but now it was time to identify the right platform to host the website and the development firm to code the pages.
Historically, the Ensure websites were hosted on Adobe Experience Manager (AEM). While AEM is a remarkably powerful platform, it is resource intensive and isn't suitable for rapid development projects. The Ensure websites needed to be launched quickly but with a robust hosting infrastructure that would allow for easy updates in future.
ESM Inbound helped Abbott Laboratories to compare the capabilities of Adobe Experience Manager with HubSpot's CMS Hub Enterprise. Knowing the needs of the business and the timelines surrounding launch, we recommended that the new Ensure websites be built on the HubSpot CMS.
The team at Abbott Laboratories agreed and planned for an initial trial with two markets: Italy and Spain.
Themes and child themes
HubSpot's themes infrastructure is power but it became even more powerful once the concept of a 'child theme' was introduced.
Child themes allow developers to create a master (parent) theme that handles the core elements of a design system but to theme have a derivative (child) theme that overrides some of those core elements in favour of variants unique to the child. This makes it much easier to create a single theme for an international brand that then features localised adaptations to meet the needs of individual countries.
Using this infrastructure, ESM Inbound worked closely with Abbott Laboratories' design agency to create a HubSpot theme that was an excellent match for the design system contained in the Adobe XD files.
Once the theme was complete and the custom modules created, we worked with the Ensure team for Italy to ensure that the website met their exact needs. Our project managers provided templates to gather text and imagery that ensured the final website was an exact match for the localised version of the brand and felt distinctly 'Ensure', 'Abbott Laboratories' and Italian. You can find the live website here for Ensure Italy here.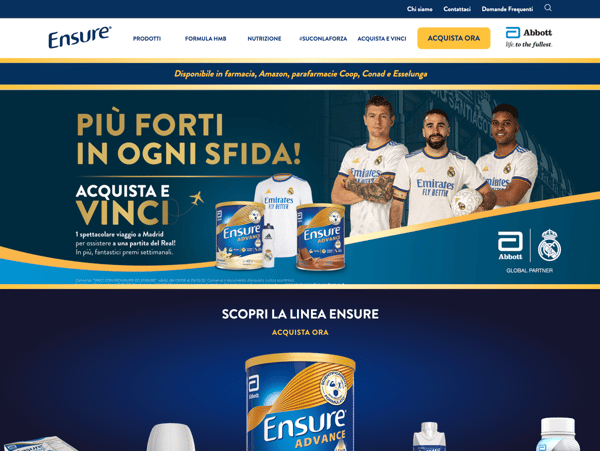 With the Italian version of the Ensure website live, it was time to create a variant for the Spanish market. Using the child theme infrastructure, we were able to quickly deploy all the features we had built for the Italian market. From there, our project managers and developers worked with the Abbott's team for Ensure in Spain to deploy variants that localised the appearance of key assets for the Spanish market. You can see the Spanish website for Ensure here.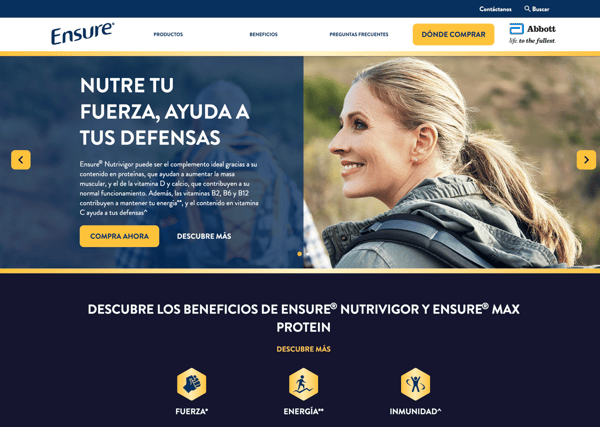 What's next for Ensure?
With the successful launch of the Italian and Spanish websites for Ensure, Abbott Laboratories has engaged ESM Inbound to launch additional websites both for Ensure and other brands such as PediaSure and Similac.