Why Umbraco 7 and Drupal 9 users should migrate to HubSpot CMS
Why Umbraco 7 and Drupal 9 users should migrate to HubSpot CMS
Get weekly
HubSpot Updates
With Umbraco 7 and Drupal 9 just two of the CMS software platforms announcing end-of-life dates for 2023 (September and November respectively), many businesses will be questioning what to do about their website next.
Should you dutifully upgrade to the next available version from these platforms (with whatever complications this might involve), or is it a good opportunity for your business to consider a new CMS for your website?
In this article, we explore what upgrading Umbraco 7 and Drupal 9 involves, and take a look at one alternative, HubSpot CMS, for those who want to review their options before making a decision.
Umbraco 7 and Drupal 9 issue CMS end-of-life announcements
CMS platforms need to continually upgrade to meet user demands and to keep working within the technologies that power their software, such as Microsoft.NET and Symfony 4.
If your website is currently using Umbraco 7, it's important to note that Umbraco will no longer provide the following help for this version, post-September 2023:
Support
Updates or fixes for bugs
Regressions
Security issues.
Additionally, Umbraco themselves advise against hosting websites that are still running on Umbraco 7 after this time. Diagram explains why this change is happening now:
'Umbraco 7 is currently over a decade old which in "software years" is more like 100 years old. You should immediately start wondering about its stability, scalability, and security.'
Fundamental changes are being made to the Microsoft.NET frameworks which will no longer support Umbraco 7. Likewise, Drupal uses a lot of Symfony code. The end-of-life date for Drupal 9 is when Symfony 4 reaches its end-of-life in November 2023 – but Drupal 10 is already available for those wanting to upgrade right away.
The problem with upgrading from Umbraco 7 and Drupal 9
Upgrading from one CMS version to the next sounds straightforward enough: in most cases, it might be the action that sounds the most obvious and stress-free.
But when it comes to Umbraco 7 and Drupal 9, it's a much more complicated process than merely switching versions. Here are some of the reasons why an upgrade might not be as straightforward as you hope:
Technical complexity: Upgrading can involve upgrading multiple components, such as the CMS, packages and custom code. This can be a complex process that requires technical development expertise.
Changes in functionality: Newer versions of the CMS may have changes in functionality or features that require modifications to the code or data structures in your current installation.
Compatibility issues: Some packages or custom code may not be compatible with newer versions of your CMS, which can require additional development work to resolve.
Data migration: Upgrading can involve migrating data from your existing installation to the new version, such as Umbraco 7 to 11. This can be a time-consuming and potentially risky process, as data loss or corruption can occur if not done correctly.
Deprecated code: Upgrade versions, like Drupal 9 to 10, often remove code that was deprecated in previous versions, which means any custom code or third-party modules that rely on that code will no longer work. This requires developers to update their code and modules to use the new replacements.
Potential database changes: There may be changes to the database structure, which can require additional steps to migrate data from previous versions.
After reading these points, you're probably beginning to understand that the process of upgrading can be more time consuming and expensive than a website migration - and you'd be right.
This presents you with an opportunity to assess the market, fix long-term issues you've always had with managing your website through Drupal or Umbraco, and finding out more about alternative platforms that might be able to offer you more. We'd recommend considering a migration to HubSpot CMS. As HubSpot themselves acknowledge:
'Drupal has powerful tools for developers, but can be difficult for a marketer to leverage to grow your business. HubSpot CMS Hub has the tools developers need, while allowing marketers to take ownership over their website and focus on the customer experience.'
Likewise, HubSpot CMS Hub is voted more favourably than Umbraco CMS by users in a range of areas, from infrastructure to web content management: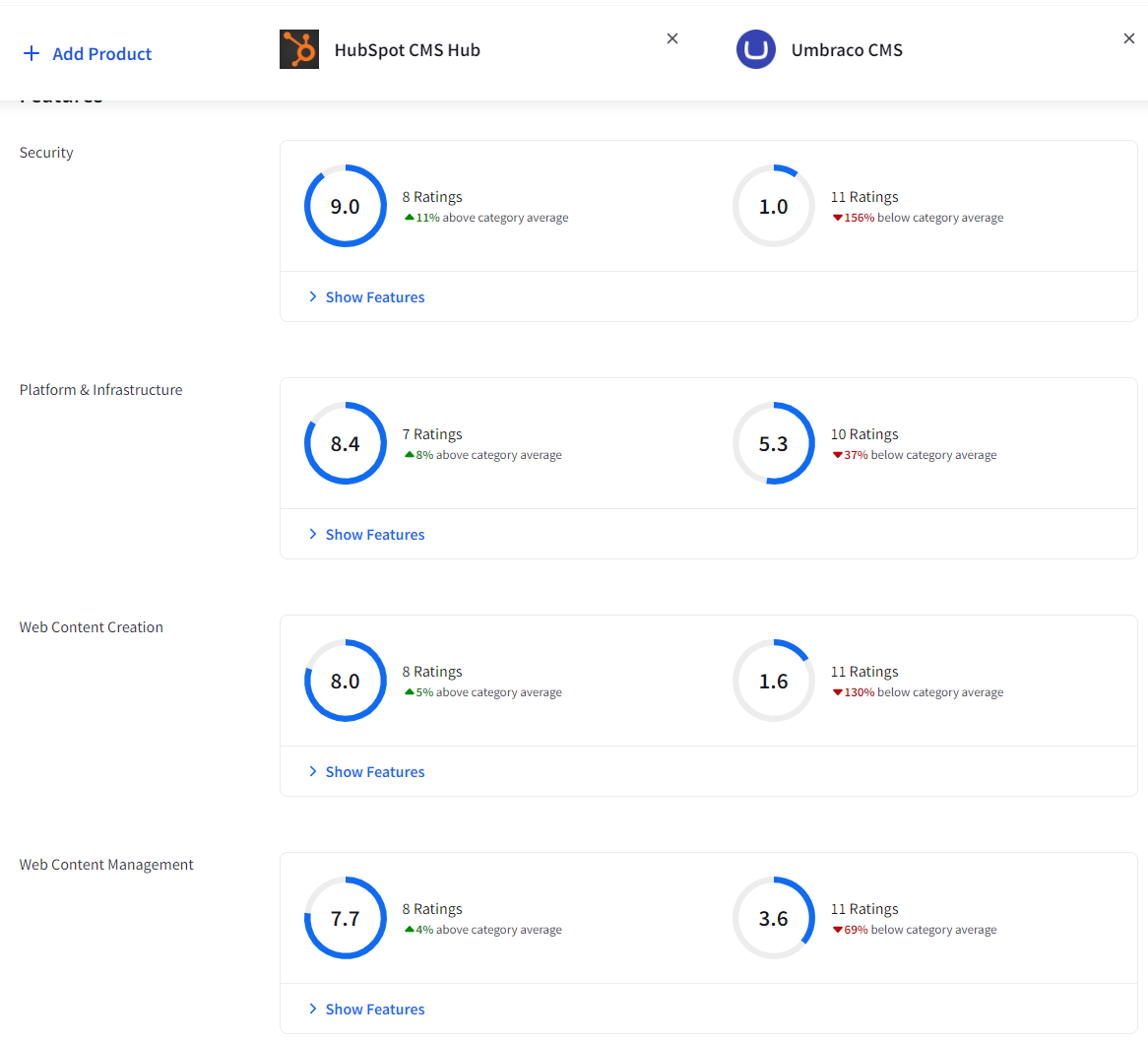 The advantages of migrating to HubSpot CMS Hub
HubSpot's CMS Hub is a popular platform that offers a range of benefits to businesses looking to manage their online content effectively.
Here are some of the main reasons why businesses might consider using HubSpot's CMS Hub:
All-on-one platform: HubSpot CMS is an all-in-one platform that includes website design, content creation, marketing automation and analytics tools. This means that you can manage all aspects of your digital marketing efforts from one platform, rather than relying on multiple tools.
Security: HubSpot's CMS provides robust security features, protecting businesses' content and data from cyber threats.
Built-in SEO optimisation: HubSpot CMS includes built-in SEO optimisation features that can help improve your website's search engine rankings. This includes tools for optimising page titles, meta descriptions and keywords.
Integrations: HubSpot's CMS integrates seamlessly with other HubSpot tools, such as CRM, Marketing, Service and Sales, providing businesses with a comprehensive suite of tools for managing their online presence.
User-friendly interface: HubSpot CMS has a user-friendly interface that is easy to navigate and use. This can save time and reduce the learning curve for your team.
Analytics: HubSpot's CMS provides businesses with detailed analytics on their content performance, enabling them to make data-driven decisions to improve their content strategy.
Integration with HubSpot's marketing tools: If you are already using HubSpot's marketing tools, migrating to HubSpot CMS can provide a seamless integration with those tools, allowing for better tracking and reporting of your marketing efforts.
Personalisation features: HubSpot CMS offers personalisation features that allow you to create custom experiences for your website visitors based on their behaviour and interests. This can help improve engagement and conversion rates.
Like any software platform, HubSpot CMS may require upgrades from time to time, to ensure it is running smoothly and efficiently. However, upgrades to HubSpot CMS are typically handled by HubSpot's development team and are designed to be seamless for users.
HubSpot provides regular updates and releases new features and enhancements to the platform, which are rolled out automatically to all users. This means that HubSpot CMS is always evolving and improving, without requiring manual upgrades or maintenance from users.
Finally, HubSpot provides support and resources to help users stay up-to-date with the latest features and best practices. This includes documentation, training materials, and a support team that can help with any technical issues or questions.
If you're worried about ongoing upgrades to your CMS; if the level of development work required to make the transition exceeds your team's capabilities; or if you're concerned about how much training and support you'll get from your CMS provider during and after upgrade, don't just stick with the platform you have: consider your options and find out what will be best for your business in the long term.
Speak to a SpotDev expert about your CMS migration
Our content includes affiliate links. This means that we may receive a commission if you make a purchase through one of the links on our website. This will be at no cost to you and helps to fund the content creation work on our website.