5 things we learnt from 'Grow with HubSpot'
5 things we learnt from 'Grow with HubSpot'
Get weekly
HubSpot Updates
Grow with HubSpot in London was a truly content-rich event delivered by HubSpot heroes Ed Barrett, Brian Gallagher and Irina Nica, who presented their latest findings for business growth. Far from keeping these top tips to ourselves – that isn't the inbound way! – we wanted to share some of our highlights from the day with you to use yourselves.
Our own directors, John Kelleher and Lucy Seymour – off the back of their successful presentation at INBOUND 2018 in Boston – were invited to speak at a panel session, alongside Verity Dearsley and Jessica Packer from The B2B Marketing Lab. This breakout session was titled 'HubSpot Partner Program Customer Panel' and attracted a large crowd of people seeking the inside scoop on how we are growing our agencies and our customers' businesses better with HubSpot (more on this later).
Here, we share our top five takeaways from the event: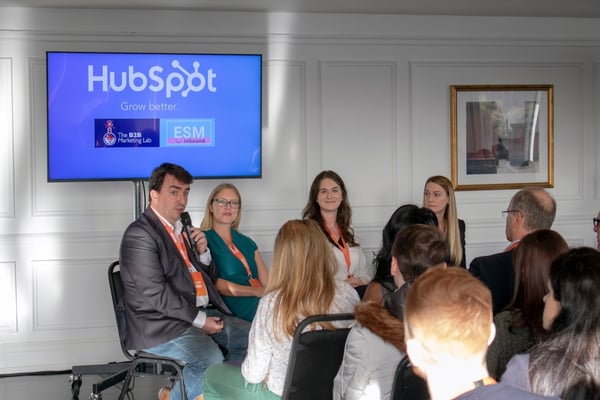 1. Customers are impatient
We know – we can hear you yelling, "tell us something we don't know!" We all have customers who want excellent service and results right now. But the statistics surrounding customer expectations shared with us at 'Grow with HubSpot' were staggering: between 82%-90% of consumers expect immediate responses when they ask questions of a business (and for most, this means within 10 minutes of sending their query).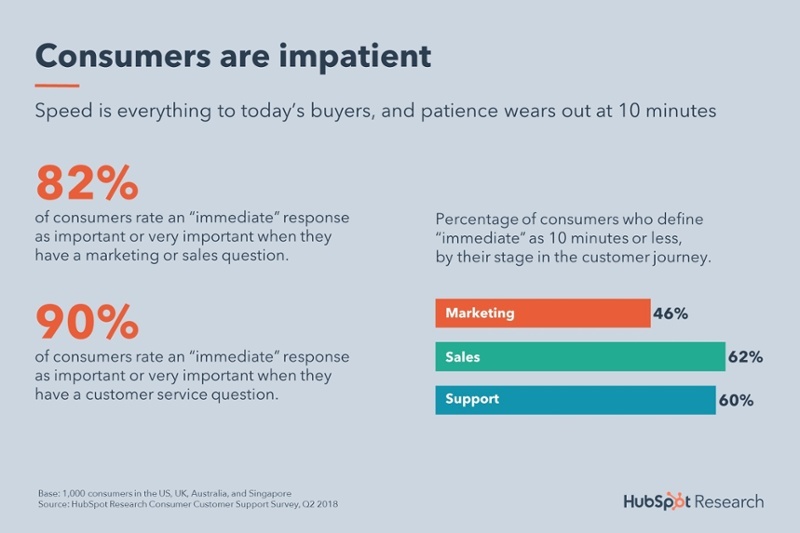 Are you responding to your customers this quickly? What systems do you have in place to enable the correct person within your business to respond promptly to your customers? Are you a 24/7 business?
Some ideas for improving your response rate might be:
A shared inbox with shared visibility of the queries coming in. Assigning the most helpful person to each query, ensuring the customer receives useful feedback quickly, means the responsibility of customer care becomes everyone's.
Chatbots – building these in HubSpot

allows you to input answers to the most commonly asked questions to help resolve queries, even when you're not in the office (HubSpot's own chatbots increased their engagement by 74%).

Be careful not to just replace humans. The written word is great for some tasks (where to find helpful advice, appointment making, task requests) but human contact is still necessary for interactions such as complaints, to keep customers happy.
2. Personalisation is king
This is something customers have come to expect from their journey with you and your product. They want to feel you're talking directly to them, they want convenience and they want no friction during the process. For your marketing team, this means they need to transform content from being not merely just findable, but to appearing where your audience are already present, appealing to their personal choices.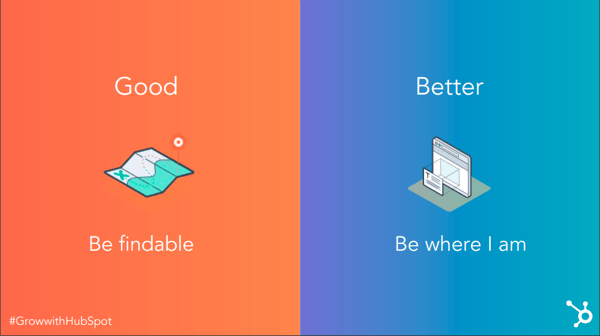 During the opening keynote, Ed Barrett from HubSpot told us that:
"80% of the time, we use just five apps on our phones. No-one is downloading new apps any more, so we have to use the apps people already use to sell, communicate and market to them."
For your sales team, it's now no longer enough for the user experience to be 'helpful' – this implies a certain amount of work and responsibility will still be placed with the consumer. Now, the sales journey needs to be 'easy'.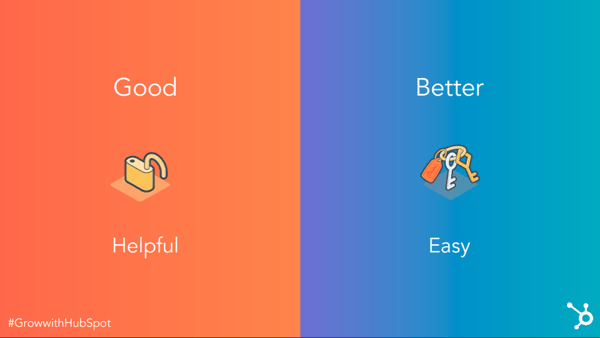 If a customer has spoken to a sales rep on the phone, then an hour later is asked the same questions by another team member at your business, they aren't going to be happy. To adapt to your market, you need to be an omni-channel business, but there needs to be a way to record the interactions you have with customers to avoid time wasting and irritating them.
Ed Barrett also explained that:
"53% of people will now contact a company using messaging apps and 38% of people buy on these chat channels (such as Whatsapp and Facebook Messenger) – they're becoming the place to sell."
HubSpot offers an all-encompassed CRM which allows all of a customer's data to be recorded in one place, and automations to be set up, ensuring they only receive the most relevant communications to their stage in the buyer's journey. Whether it's emails, chatbot interactions, phone or video calls, all these records are saved to avoid repeat questions, to highlight fields that haven't yet been filled, and to build a fuller picture than ever before of each customer.
Meanwhile, Brian Gallagher (one of HubSpot's Sales Engineers) informed us that latest patterns show:
"80% of all internet traffic will come from video in 2019."
He then explained that this should include using the video editor within HubSpot to communicate with clients in a highly personal way (even integrating a CTA and form within the video, with a follow-up email sent five minutes after the customer has watched it). Showing your own face and talking directly to the customer using their name is a sure way to delight them through personalisation.
3. Consumers want to be told what they need
To be really clear – this doesn't mean in a pushy or patronising sense: if you try to ram your product down their throat when customers aren't ready, you're going to lose them fast (and cheese them off in the process). HubSpot highlighted that, once upon a time, average conversations with customer services went something like the orange box below, whereas now we need to move into the blue-box space: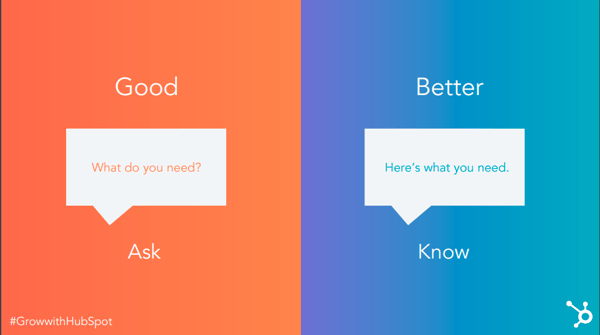 The more information you gather about your ideal buyer profile and buyer personas, the more your customer-service team will be able to pre-empt the challenges arising for your customers and offer solutions ahead of the customer vocalising their issues.
It's not that customers can't think for themselves, it's that the world is so busy and demands on their time are so numerous, that the more you can produce helpful content, solutions and guidance ahead of the customer hitting roadblocks, the smoother their overall experience with you will be.
This can be achieved through:
Mobile-optimised websites with quick, easy-to-follow user journeys

Targeted Facebook and Google ads

Short forms with only the essential fields included for data capture

Segmentation of contacts to ensure the right content is reaching the right people

Measuring metrics such as how long users spend on a page or

how much of a video they watch before quitting

, allowing you to judge where the gaps in their knowledge might be.
4. Feedback = success
Your customers are your best marketing channel. This was a theme that resurfaced again and again through the 'Grow with HubSpot' day – and it certainly got us thinking about how much we are (or aren't) shouting about the fantastic feedback we get from clients. Are you using your customers as your best marketing channel?
An interesting point was that – despite the endless forms of digital communication we now have – it's still word of mouth that really engages prospective customers: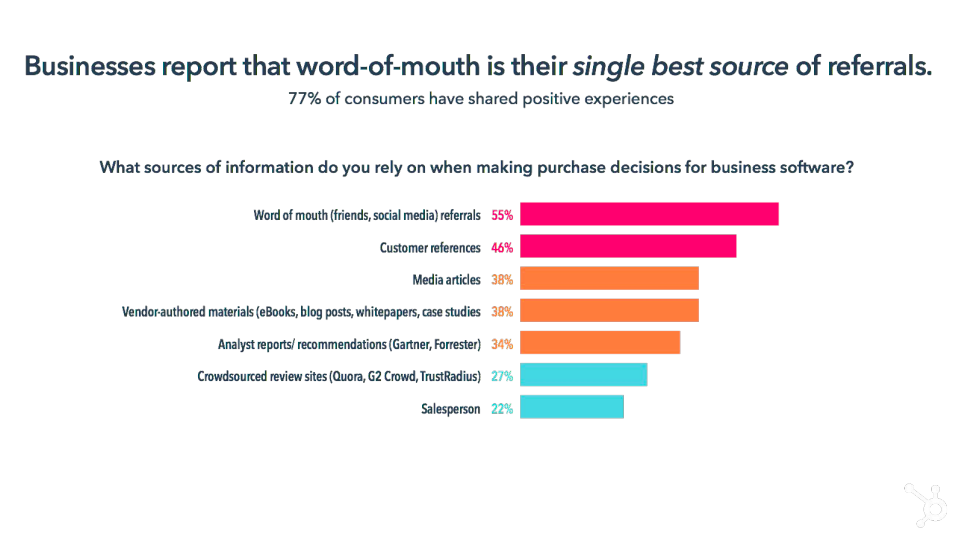 After all our technological evolution in recent years, it's still human experience that convinces us whether or not to engage with a brand – that's powerful stuff! This is something AI or automations simply can't achieve: we all need our customers to be talking about us.
At 'Grow with HubSpot', Ed Barrett said:
"When was the last time you bought a product with a two-star review? You can now filter Amazon results so that only 4- or 5-star reviews come up: reviews mean a lot because people are skeptical of trusting sales and marketing people."
Sadly this is true! Try as we might, sales people and marketers still appear way down on the list of trustworthy professions when members of the public were asked to rank them: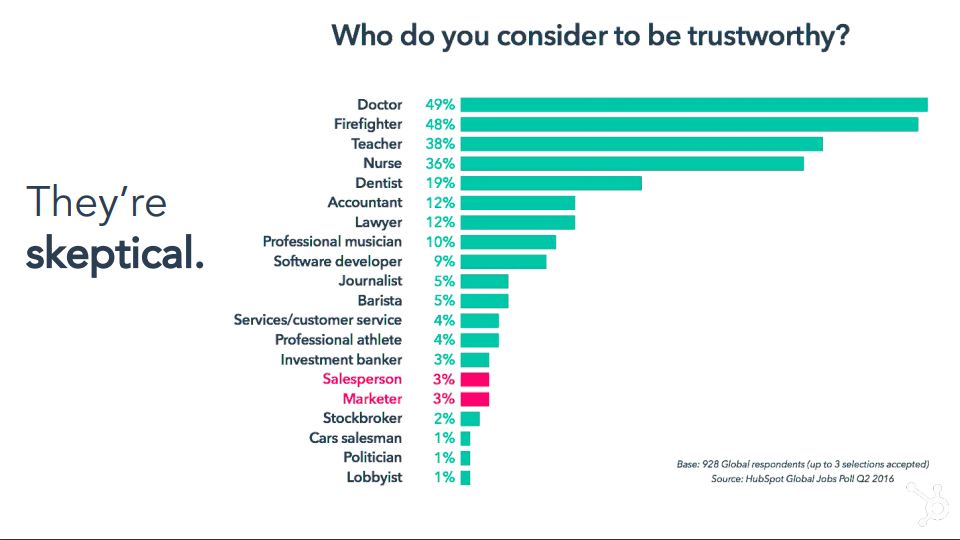 Despite our best efforts, this shows it's far more valuable for prospects to have testimonials, videos, reviews and case studies from your existing happy customers, rather than content created purely by you. Not only this, but it costs up to 25x more for your business to find a new customer than to maintain your existing one. Capture any delight going on at your business – this is your new currency in the world of inbound sales, service and marketing.
5. There's strength in numbers
One of the major takeaways from the day was that no man – or business – is an island. Whether you're an agency, a sole trader, not-for-profit or HubSpot/non-HubSpot user, there is real strength in creating a community around you of other people who understand the challenges, joys and demands of your role. These aren't your competitors: they're your allies.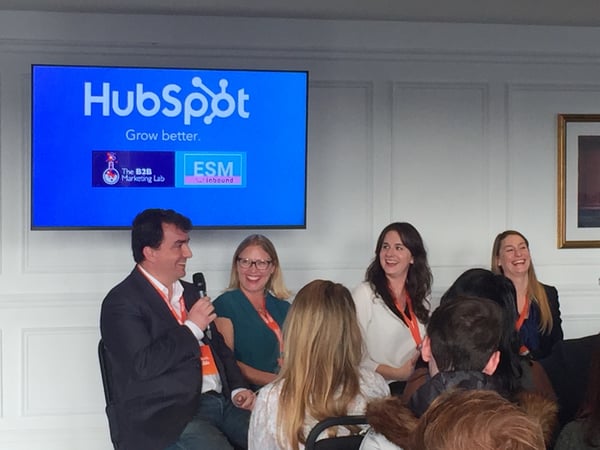 During our agency panel session, the conversation turned to the network created by HubSpot, which our Director of Operations, Lucy Seymour summed up:
"HubSpot's advice has been absolutely invaluable. We've taken everything we possibly can in terms of the support that's been on offer – they've really helped us make sure our services are getting delivered better, faster and happier for our customers. It's been so positive to know that if there are processes that need to be refined, Brian, Rachel and the team are there to offer guidance."
Verity Dearsley from The B2B Marketing Lab agreed, remarking that:
"In a lot of other software and agency networks, you often come across people at one another's throats, or who don't talk to each other: HubSpot has done an amazing job of building a network of partners. We talk to other partners, we work with other partners, we share information with other partners… we've all got challenges, day to day, so even just to hear someone else say "yes, I feel that pain," is reassuring."
This was later backed up by Irina Nica's session on link-building tactics, which encouraged attendees to reach out to other businesses, forging links and working relationships with one another through content creation. She recommended:
Searching for unlinked mentions of your business or blog – using a site like

BuzzSumo

– and requesting those companies link to your website (providing them with the exact mention, the copy to link up, and the hyperlink makes this extra easy for them)

Asking the regular people who are linking to your blog to also add in the odd link to your web pages – especially product and services pages (again, provide them with the exact links you'd like them to add in to avoid resistance)

Reach out to regular linkers and promoters and ask for a two-way guest post opportunity. Tell them you've noticed a particular topic is missing from their site and ask if they'd like you to create some content around it as a guest writer. In the meantime, they could do the same for you.
All in all, this was a fantastic day – there was so much more content covered about working with agencies, other tactics to employ to promote findability, and using video editors, but we will be bringing you more updates on these topics soon. For now, we hope you find the updates in this post as valuable as we have.
Our content includes affiliate links. This means that we may receive a commission if you make a purchase through one of the links on our website. This will be at no cost to you and helps to fund the content creation work on our website.