VantagePoint
Corporate Website

Case study
Industry: Financial consulting
HubSpot products used:
CMS Hub Enterprise

Website: www.vantagepoint.consulting
Results overview:
1. The newly designed website increased page views per session by 50%, compared with the previous website
2. The bounce rate dropped by 9.11%

3. Session length increased from 31 seconds to 90 seconds.
Services used:
UX Research
UX Design
UI Design System and High-Fidelity Design
Bespoke HubSpot Theme Development
Site Population & Build
Content Writing (ESMInbound)
Website Launch



Summary
VantagePoint had a website that they outgrew as a company.
They needed a newly refreshed brand and website that portrays them as a large global, inclusive and diverse consulting firm. In addition, they wanted their personality as a company to come through; they didn't see themselves as 'business as usual' but as disruptors to the status quo of the consulting world.
The challenge
VantagePoint wanted to build trust. The existing website needed more clarity of message and needed more social proof.

The client had a lot of content (videos, testimonials etc.), but they weren't using it because the old website was hard to update.

There needed to be more diverse user journeys for the different personas and planning around those.

Due to the nature of the business, the lead-time-to-sale is long, so users will visit the website to vet the company and do research, sometimes multiple times, before converting.

The website wasn't a true reflection of the business and its growth. VantagePoint needed a brand refresh to show a more grown-up, prominent company.

There needed to be a careers section to attract fresh, talented team members.
Users & Audience
CFO and C-suite executives

Financial controllers or similar
Our design process
UX Research
Step 1: Research methods used
Stakeholder interviews, usability testing and website statistics.


Step 2: Findings
The stakeholder interviews defined the success of the project as follows:
"The website needs to build trust and convince prospects and potential employees to work with us."

"We need a website that portrays us as a large consulting firm that is global, inclusive & diverse."


"Increased downloads of assets, viewing of case studies, sign-up to events and decreased bounce rates."
User interviews
User interviews showed that data was the primary pain point for the CFO and the financial controller.

Access to the data they need, lack of governance around data, poor data quality, and lack of data standardisation are all issues.

CFOs and financial controllers spend most of their time validating data on different levels. They needed someone to help them remove the "grunt" work so that they could focus on more strategic initiatives and solutions.
Customer satisfaction survey
The existing website had significant usability issues on the resources and case study pages.

The customer satisfaction survey scored 4.4 for resources and 3.2 for the case study page.

Considering these are two areas where the company should build trust and increase reach, it was pivotal to focus on redesigning these.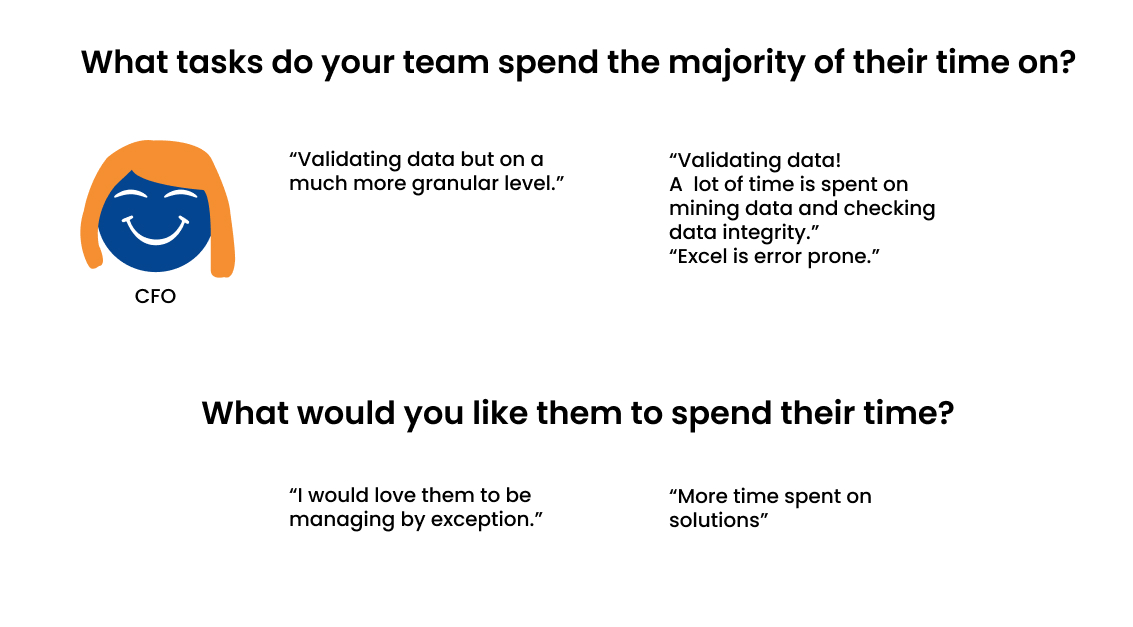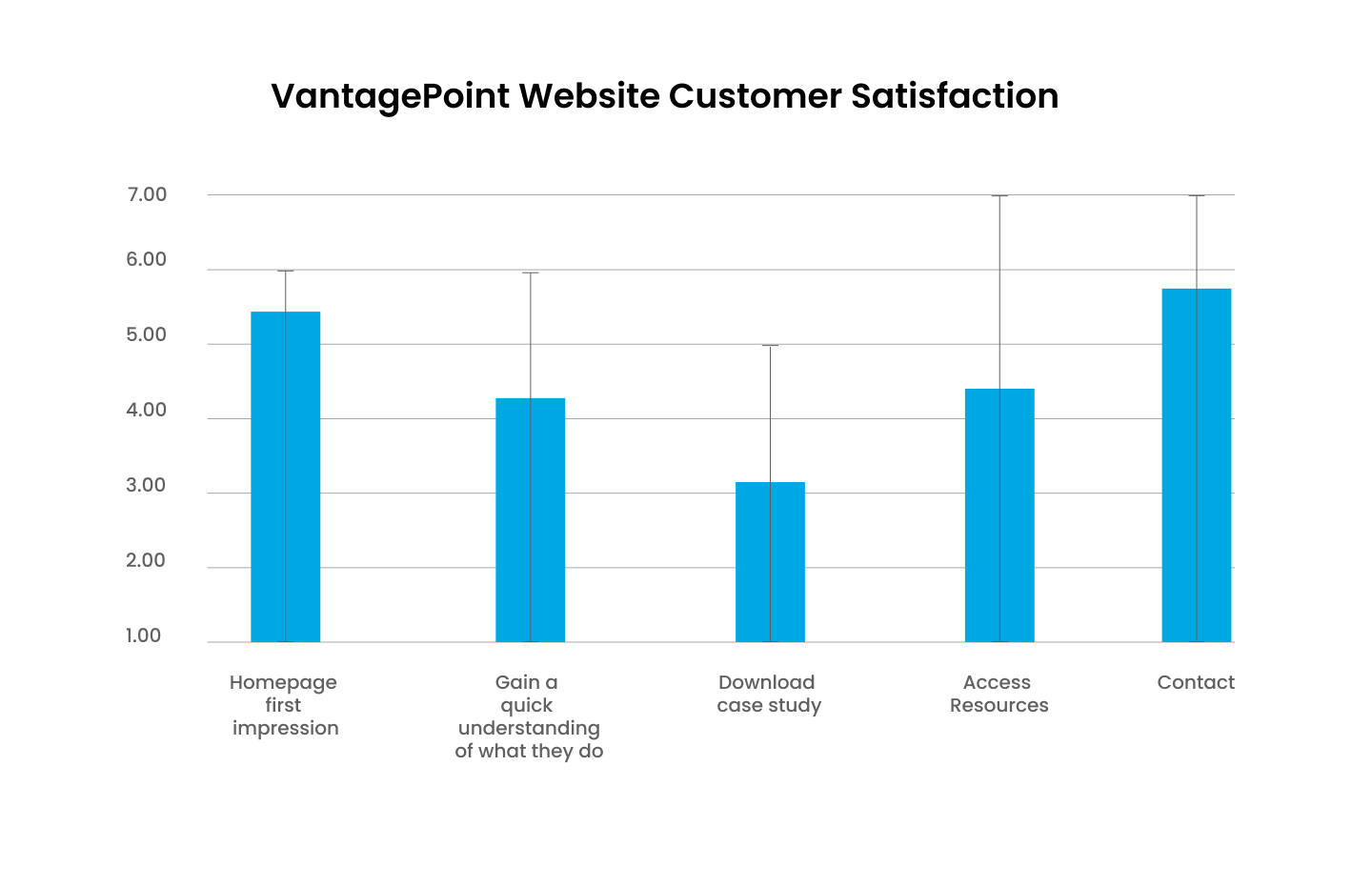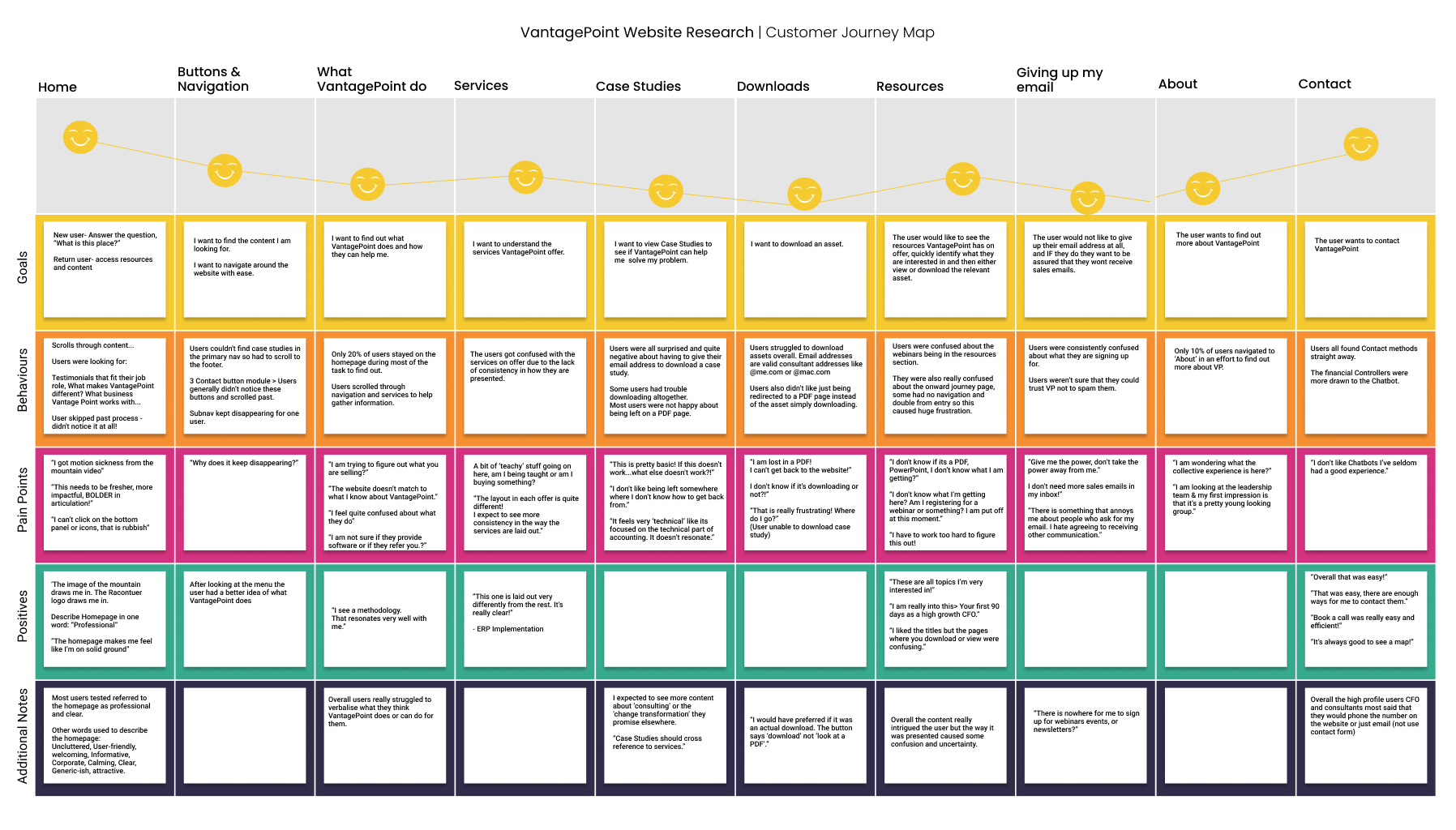 Usability tests revealed
Home
Most users referred to the existing homepage as 'professional' and 'clear'. However, one user said the moving mountain video made them feel motion sickness. Overall, users were OK with the homepage but needed clarification about what VantagePoint does. For example, 80% of users didn't notice the process design.
Navigation
Users couldn't find case studies in the primary navigation, so they had to scroll to the footer to access the page link. The navigation hover also kept disappearing.
Services
The users needed clarification of the services on offer; they required more consistency in how they were presented.
Case studies:
Users were surprised, and quite put out, about needing to give their email address in order to download a case study. Some users had trouble downloading altogether. Most were unhappy about being left on a PDF page and expected the button to download the PDF, rather than simply opening it.
Resources & downloads
Users were confused about the webinars as the landing page looked like the user was registering to attend an upcoming webinar, rather than viewing a video of a past webinar.

In addition, they were unsure about the onward journey page; some pages had no navigation and double form entry, so this caused colossal frustration. Finally, they also needed clarification about the type of assets on the page.

Users needed help downloading or viewing assets, overall. Even email addresses that are valid consultant addresses, like @me.com or @mac.com, were unable to submit the form and access the content.

Users also didn't like just being redirected to a PDF page instead of the asset simply downloading.



About & contact
Only 10% of users navigated to 'About' to learn more about VantagePoint.

Overall, the contact page was straightforward to understand and use.

The financial controllers were more drawn to the chatbot, whereas the CFOs said they were more likely to want a call.
Impact of research on the product:
Home:
We added 'Who we work with' (industries & types of businesses) so the user can see themselves in the list.

We added clear key differentiators and clarified the value proposition.

We reviewed the process design.

We added different testimonials from varied job roles.
Case studies
We added case studies to the primary navigation.




We removed forced email submissions - this was not the place to generate leads, as it immediately caused the users' reservoir of goodwill to run out.

Case Studies are where the business wants to build trust and show what it can do. They help businesses appear generous and self-assured; by forcing the user's email at this point in the journey, it achieved the opposite.
Resources on website
We split out downloadable content from webinars because the terminology and grouping caused frustration.

On the downloadables listing page, we added 'Asset type' to the layout: PDF, slideshow, e-book and included reading time if appropriate.

For webinar recordings - we added the video length on the listing page.

We got rid of the landing pages gating each resource and instead only have one lead generation form, which is intelligent enough to know if the user has already provided an email address.

This way, the user can download any resource without continually re-entering their details as they had previously.
Services
We standardised the layout of the 'services' category page and subpage. All services follow this layout which will help the user understand the offering more quickly.
About
We included the brand values and more information about the company and team to explain who they are as a company.

We added pages like 'Diversity & inclusion' to help illustrate the company's culture.
Careers
We added a 'Life at VantagePoint page' to help prospective employees see what it's like working at the company and attract talented individuals.

We added a 'Careers' page to show what jobs VantagePoint has on offer.
Contact
We added a unique phone number to the website to allow us to track conversions by phone. During the research, the phone contact method was favoured by CFOs.

We added a way for users to register their email addresses voluntarily to a mailing list for webinars/events and newsletters.

Branding refresh
We needed to move away from looking too generic and from clichés.

We wanted to keep professionalism with friendliness, bringing in natural shots from the team.

We wanted to be upfront about the young team, making that part of the story about what makes them different.

We updated brand attributes:


Modern/fresh/clear

Simple/elegant

Down to earth/inclusive

Trustworthy

Professional

Independent of thought/disrupters.

The tone of voice is fresh, down to earth, trustworthy and professional, with the energetic confidence of a new kid on the block, ready to shake things up.

The copy had to steer clear of clichés and focus on HOW VantagePoint helps.

Results:
The newly designed website increased page views per session by 50%, compared with the previous website.
The bounce rate dropped by 9.11%.
Session length increased from 31 seconds to 90 seconds.
Most importantly, we increased views of case studies by 153%.
The next step is to measure key conversion points and optimise the site where needed.
"I found the research stage of the project especially useful as it gave us valuable insight into how our target audience felt when using our website (something we'd overlooked in the rush to put together our first website!). I also liked that the research was used to clearly define each design decision that was made."

Ife Akintoye


Marketing and Communications Lead







Request a quote
If you're looking for a highly technical HubSpot Solutions Partner, then SpotDev (part of the Everybody Smile More Group) is the ideal choice. Fill in the form below to get a quote from our team:
Please note that we will need to book a call to discuss your project in order to provide a committed quote.
Our clients love our work
"ESM Inbound is fantastic! I'm very happy to recommend ESM Inbound for web and email (and everything else HubSpot related)."
"Proactive, practical, pragmatic, professional, praiseworthy - as a HubSpot partner, I couldn't have asked for more!"
"Deliverables and timelines are always mapped out very clearly in consultation with us, making it easy to find the right options to fit our projects and budgets."