Superior
Corporate Website

Case study
Industry: Treasury & cash management services
HubSpot products used:
CMS Hub Enterprise

Website: www.superiorpress.com
Results overview
1. Decreased bounce rate from direct traffic by 10.70%

2. Increased contact-to-customer rate by 5.13%
3. Increased referral to contact rate by 50%.
Services used:
UX Research
UX Design
UI design system and high-fidelity design
Bespoke HubSpot Theme Development
Site Population & Build
Content Writing (ESMInbound)
Website Launch
Rebranded Marketing Campaign (ESMInbound)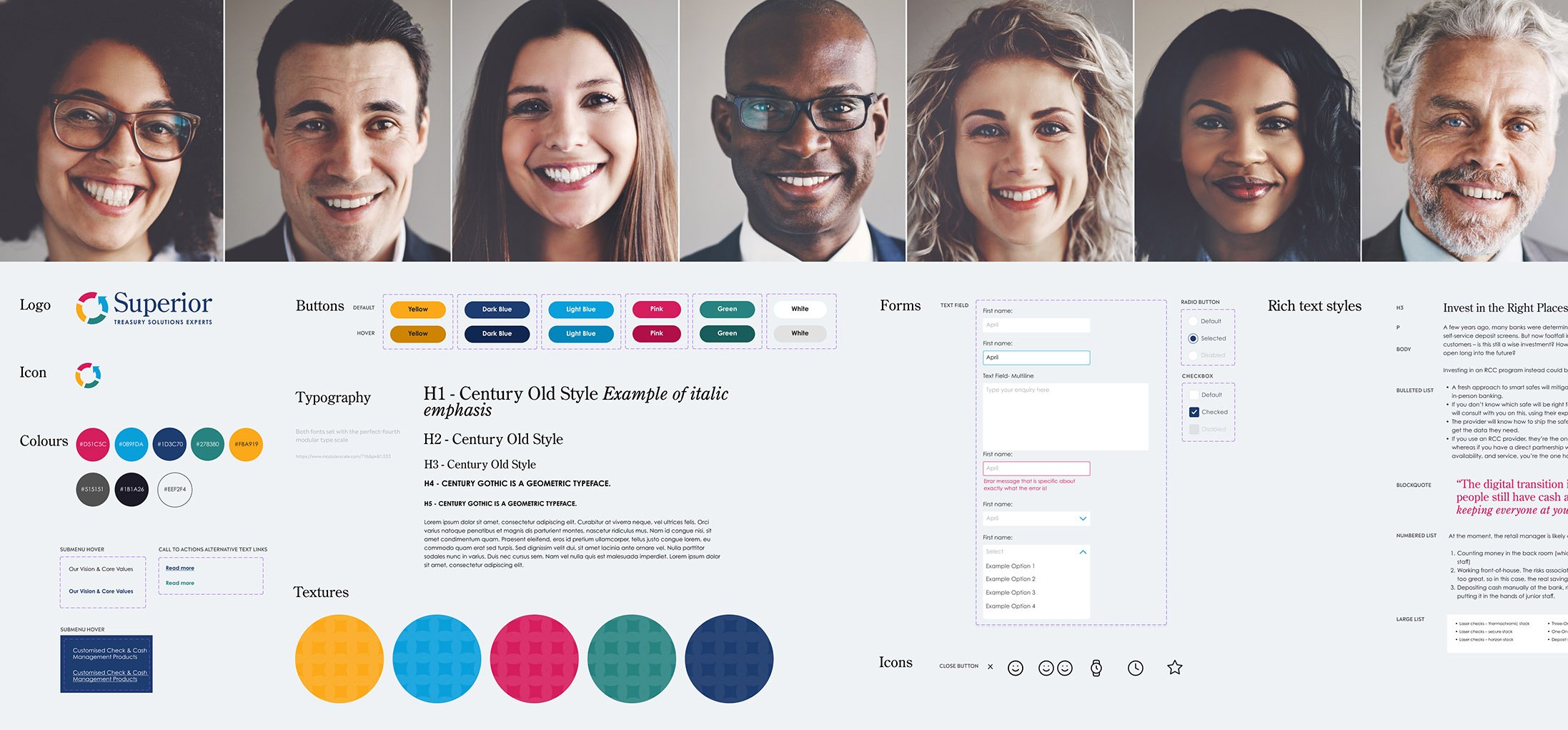 Summary
Superior Press rebranded to Superior. The company put itself on the map by providing treasury products to banks and businesses.
They needed the new name, brand and website to reposition them as a solution provider to banks, rather than a predominantly paper product-focused company.
The challenge
The website was outdated and focused on paper products, with very little information about their new customer-experience offering.
In addition, the new website needed to build trust and credibility in this new space.
Users were coming to the website to:
Log into the customer portal to place orders

Gather information on products

Gain an understanding of the solutions offered

Make contact or get quotes

Book an appointment with a consultant.
In addition, Superior needed a robust design system to translate the atomic-based components into functional modules of a custom-branded HubSpot theme.
Users & audience
Primary users and journey = Bankers

Secondary users and journey = Medium to large-sized businesses, franchisees and franchisors.
Our design process
UX Research
Step 1: Research methods used
Stakeholder interviews, usability testing & website statistics


Step 2 Findings
The stakeholder interviews defined the success of the project as follows:
"When we rebrand and have a website that shows us as a treasury solutions company, rather than focussing on our factory and paper products."

"The project will be a success when we have a new modern website with tracking set up and clear goals in place."
Usability tests revealed
Home
Users needed clarification on what terms meant and images didn't correspond to the copy. In addition, they felt that the video hero section took up too much space, and they needed help to see a clear differentiation between solutions and products.
Product & Solution pages
Most users overlooked the horizontal sub-navigation on the secondary-level pages. In addition, users needed to be more clear on the terminology across the board.
Navigation
The user kept losing the sub-navigation on hover and was unsure if they clicked on the correct link, as page names and button names didn't correspond.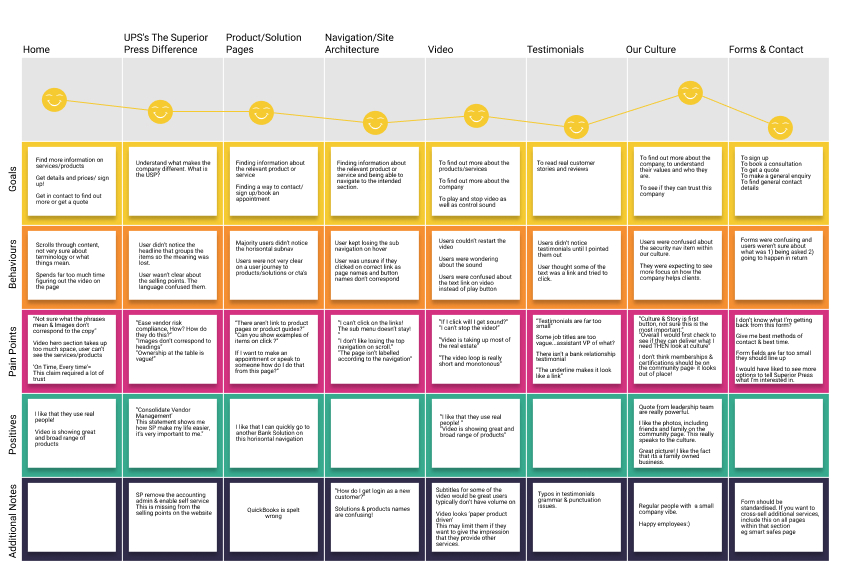 Video
The site used many video background embeds, which frustrated users. They couldn't restart the videos and were wondering about the sound and if they could control it. In addition, they were perplexed about the text link on the video instead of a play button.
Testimonials:
Users only noticed testimonials once we pointed them out because they were so small. They also said that the job titles needed to be more specific and that there was an underline that made it look like a link but didn't go anywhere.
Our culture:
Users felt that the security section within our culture was out of place in the site hierarchy. They were expecting to see more focus on how the company helps clients.
Forms & contact
Forms were confusing, and users needed clarification about what was 1) being asked and 2) going to happen in return.
Impact of research on the product:
We changed the 'Bank and Business' category to 'Product & Solutions'. We did this because the site structure duplicated a lot of content across 'Bank and Business' pages. The duplicate content caused users to question the difference between the checks page underneath the businesses category vs checks in the banks' category, as the page looked the same.

We added a page called Superior for you' - where banks and businesses can self-identify and access specific content for their needs. Still, equally, they can choose solutions or products, making accessing the right content for their needs easier.

About - We added 'Our Story' as a separate page as the business wanted to make more of its existing content and use this area to build trust. The new 'About' page was more focused on top-level information.

Risk & compliance management - We grouped this under 'Solutions' as research revealed it felt out of place under 'About Us'.

We designed a clear difference between products and solutions by differentiation in the navigation and on pages by adding differently coloured content blocks and using this throughout the website narrative.

We enabled the primary users to self-identify as Business or Bank, and explore which products/solutions are available via the navigation and homepage.

We created a clear path to call-to-action that is relevant to each user journey, business or bank.

We gave users complete control over video (start/stop/volume) and used video only when it offered them relevant information.

We steered clear of video backgrounds as the research findings indicated this frustrated users.

We decided on the terminology of 'products' and 'solutions' and used it consistently throughout the website.

We increased the size of the social proof modules to build trust and credibility.

We reworked the forms, taking user research into account, by adding a contact method and ensuring the form heading and 'thank you' message was descriptive of the actions being taken and what was coming next.

Component/module design & development
We designed and developed a suite of custom-branded modules

The modules were developed using components and variants of components as a guide

Each module had customisable elements or variant layouts; complex modules had both. The functionality made it easy to create various layouts quickly.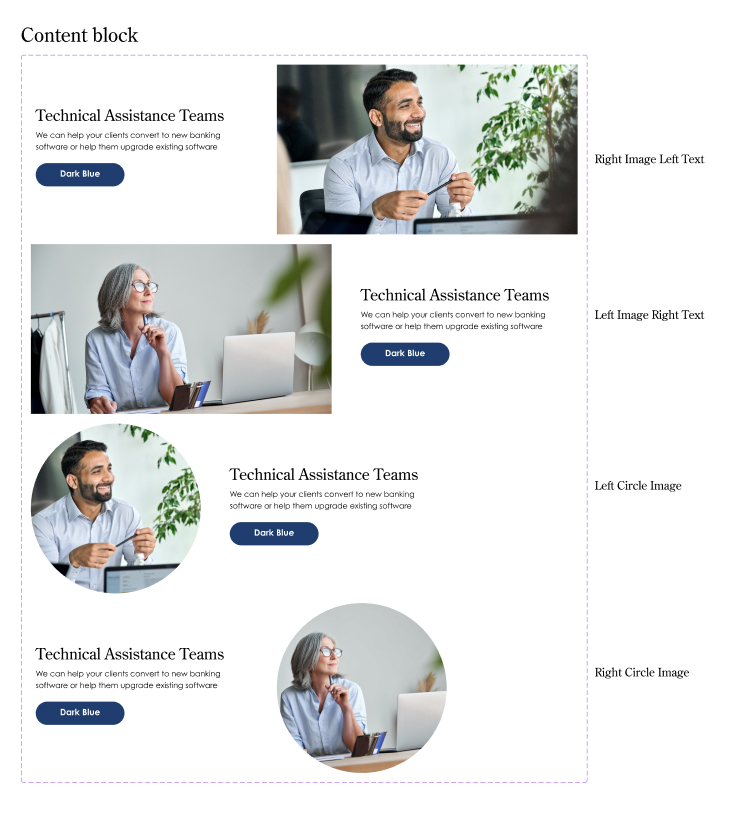 Results:
Decreased bounce rate from direct traffic by 10.70%

Increased contact-to-customer rate by 5.13%

Increased referral to contact rate by 50%

We launched the website on time & on budget.

We delivered a newly branded website that differentiates between paper products and solutions with tracking and goals in place.





"We've been able to expand our capabilities with your team's support and ingenuity through the design and implementation of both creative executions and technical platforms."

April Levin


Vice President of Marketing







Request a quote
If you're looking for a highly technical HubSpot Solutions Partner, then SpotDev (part of the Everybody Smile More Group) is the ideal choice. Fill in the form below to get a quote from our team:
Please note that we will need to book a call to discuss your project in order to provide a committed quote.
Our clients love our work
"ESM Inbound is fantastic! I'm very happy to recommend ESM Inbound for web and email (and everything else HubSpot related)."
"Proactive, practical, pragmatic, professional, praiseworthy - as a HubSpot partner, I couldn't have asked for more!"
"Deliverables and timelines are always mapped out very clearly in consultation with us, making it easy to find the right options to fit our projects and budgets."