Why use Custom Objects in my sales process?
HubSpot custom objects create essential functionality for any business who sells more than one product or service. They offer the ability to create a one-to-many association with your Deal Object and/or your Company Object, so your teams can see active vs lapsed products, live vs completed services and drill down your reporting to answer questions like 'Which business development manager is generating the most multi product/service deal and giving this business the best ROI?'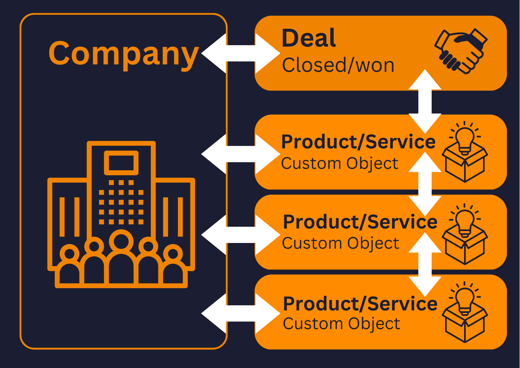 Custom objects support you in collecting key information from your deals and key accounts with a one-to-many association. This allows new data to be added to the deal and/or company object. Instead of overwriting, which would occur when using a property, a custom object allows you to keep a record of past data entries and continue to add new ones.
This growing data offers a fuller picture of your accounts and allows you to find trends and commonalities. These then help guide your business and strategies into the future using real data, not guesswork.
Enhanced reporting & analytics
Using Custom Objects and their one-to-many data structure and multiple association features, means you can start reporting and analysing like never before.
Identify rising key accounts based on the number of active products and company lead scoring.
Uncover up-sells and cross-sells based on product/ service history.
Once you know what you want to report on, use HubSpot to automate actions or prompt your team for next steps.
Reduce product/service churn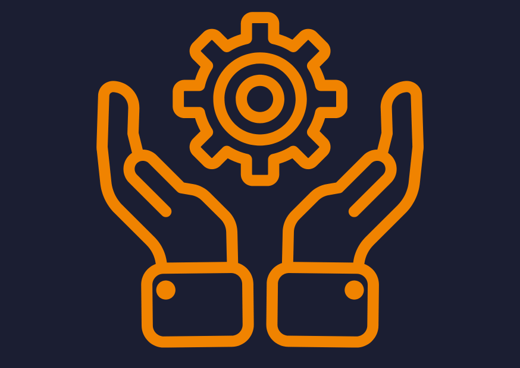 Demonstrate your investment in your accounts' success with custom object-driven automations. Often action to prevent churn is triggered too late, but using custom object data - either as a trigger or in your account reports and dashboards - your teams can identify potential churn risks quicker and easier.
If you're looking for a highly technical HubSpot Solutions Partner, then SpotDev is the ideal choice.
Let us explain how our Platinum-Tier HubSpot partner status has helped hundreds of companies to thrive with their new CRM and CMS.
During the call, we will:
explore your business and your challenges

identify how SpotDev can help

explore broad brushstrokes of a commercial relationship

set a date for a more complete consultation.
Our clients love our work
"Proactive, practical, pragmatic, professional, praiseworthy - as a HubSpot partner, I couldn't have asked for more!"
"Deliverables and timelines are always mapped out very clearly in consultation with us, making it easy to find the right options to fit our projects and budgets."